Sengoku Battle

斬玉合戦

Categoly:Game
Price:Free

Are you ready to dominate the whole country?
You need to be a great samurai!

[How to play]
1. Choose an area to start the game!
-Each area has a different difficulty level.
・Offensive strength: Agility of enemy's attack
・Defensive strength: Quantity of target block

2. Start a battle to achieve the target number of blocks!
-Align three or more blocks of the same picture in a row or column to disappear.-The blocks that you delete will be yours.

3. Face enemy's attack!
-Every time the bar on the top of the screen turns to zero, your enemy will attack.
-All blocks on the last line will be pushed out to decrease your blocks.

4. Achieve the target number of blocks to dominate a country!
-The allotted battle time is 60 seconds.
-You can play the game again and again until you dominate an area.

[Ranking]
The game supports online ranking.
Samurai who conquers a country should submit your score!



Choose an area.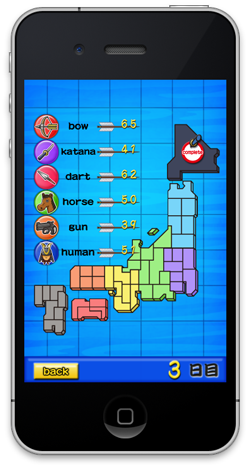 Each area has a different difficulty level.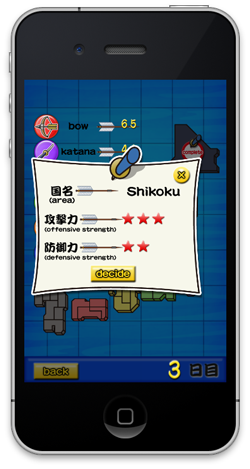 Dominate a country!