Noodle Catch

サラリー麺

Categoly:Game
Price:Free

Use a bowl to catch ingredients quickly because the owner throws them!
Catch as many ingredients as possible to be the best noodle catcher!

[How to play]
Tilt right and left to move a Japanese businessman.
- Tilt greatly then the Japanese businessman moves quickly.
- The oily floor is slippery. Watch out!

Catch ingredients that the owner throws.
- The more score you get, the faster the owner throws.

[Game over]
When you fail to catch noodles five times, it's game over.

[The variety of ingredients]
Each ingredient that the owner throws gives you one point.
・Noodle
- Failure to catch noodles decreases health.
・Naruto, Char siu, Menma
- Failure to catch these ingredients doesn't reduce health.

[WATCH OUT YOUR STEP!]
Slip on ingredients on the floor.

[DANGER OF BURNING!]
If ingredients hit the face of the Japanese businessman, he hops and can't move for a while.
In addition, if noodles hit his face, health will be decreased.

[Online ranking]
- Press SCORES to check your score.
- Try to get the highest score possible!



Catch ingredients!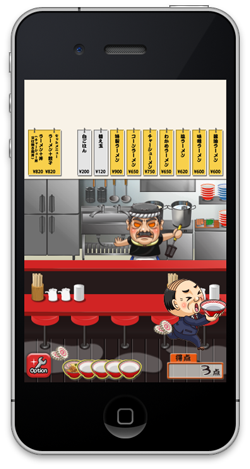 Good catch!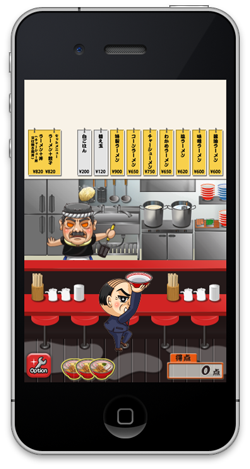 Danger of burning!