Battle Skating

戦え!!フィギュアスケート

Categoly:Game
Price:Free

Use great figure skating skills to avoid obstacles!
Push mean judges off!
This is like a fighting!?

[How to control]
Flick right and left or up and down to use figure skating skills.

[Flick up] to perform a triple axel.
A skater jumps over an obstacle at the bottom.

[Flick right or left] to perform a Biellmann spin.
A skater pushes away an obstacle in the middle.

[Flick down] to perform an Ina Bauer.
A skater avoids an obstacle on the top.

[Rules]
There are two kinds of programs, and each program offers three difficulty levels.

■Short Program
Perform designated figure skating skills at the right moment!

■Free Program
Use various skills to pass obstacles!

The game has an online ranking.
Be the queen of figure skating!!






Ina Bauer!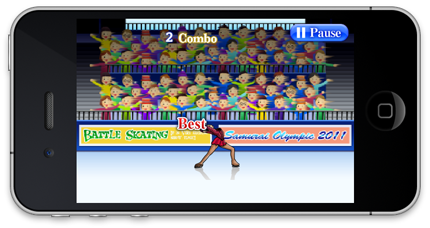 Watch out!