NINJA BBQ

忍者バーベキュー

Categoly:Game
Price:Free

Job offer! Looking for someone to serve what ninjas order.

[How to play]
1. Judge doneness visually!
- Food randomly falls down from the top.
- Check the color of food or a gauge under the food to judge the doneness.
- When the gauge is filled, the food will get burned black and automatically disappear from a BBQ grill.
2. Serve what ninjas order!
- A plate that a ninja is holding shows what he ordered.
- Drag the right food on the plate.

[Game over]
If you serve wrong food or half-cooked food or burned food to a ninja, your score and life points will be decreased.
When your life points reach zero, the game ends.

How many orders can you handle in the allotted time?

[BBQ Ninja magic]
A button appears when a bar on the right side of the screen is filled. Press the button to use BBQ ninja magic.
- Under the ninja magic, pieces of meats only fall down.
- Ninjas only order meat during the magic.
- Serve meat to ninjas until the bar runs out.

[Ranking]
Press [scores] to check your score.
Be a BBQ and Ninja master!






Judge doneness visually!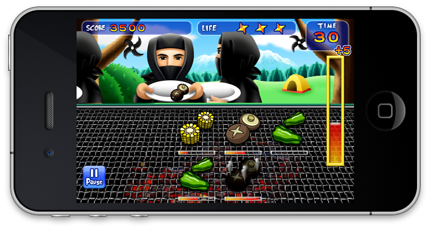 BBQ Ninja magic!